Bihoro Gama's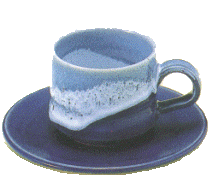 ---
オホーツク焼| 作陶の現場| 窯元の歴史| 美幌近辺の観光地
---
English Page is Under Construction


Bihoro Gama or Bihoro Kiln as said in English is located in the Far North of Japan, 
beside the Okhotsk Sea. 
The exquisite works of this Pottery are famous for mimicking the natural beauty of region. 
Throughout the Far East the Okhotsk Sea is known for a phenomenon 
that attracts visitors from afar. 
This phenomenon, Pack Ice (Ryuho) comes each and every year to the region. 
Staring out to sea there is blending of three elements, 
the light blue sky, the white pack ice and the deep blue sea below it. 

Bihoro Kiln has managed to reproduce this effect in its glaze 
in so doing has captured the essence of the Okhotsk Sea.



Thanks:This English page was produced by Mr Emmett Wade in Canada.